I heard today that my sister in laws and cousins in Queensland are safe, although hemmed in from the extensive flooding that is now covering much of Queensland and northern New South Wales. Many many others are not so lucky. My heart and prayers go out to the thousands affected, and especially to those who have lost loved ones.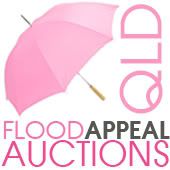 I will be joining with
Toni
(from Make it Perfect) and many other bloggers to help raise money for those who have lost so much. There will be a master list on Toni's blog of everyone who is running auctions, beginning Monday 17th Jan. Please let her know (by this Friday at the latest) if you would like to auction something on your blog, and she can add your link.
I started on a quilt this afternoon and have been working on it furiously with the hope that it will be finished by Monday, in time for the Auction. All proceeds will go directly to the
Queensland Government Flood Relief Appeal
. Hopefully we can band together to make a small, but practical difference to those who are in much need at this time.